Achilles has always had the reputation for manufacturing one of the highest quality inflatable boats in the world. Any inflatable dealer will tell you that the quality of the boat begins and ends with its fabric — its durability, toughness and overall reliability. And it's no surprise that Achilles sets the standard for manufacturing the boat fabric, used to craft its own premium line of inflatable boats, but often sold to be used in the construction of other inflatable boat brands.
Achilles proprietary fabric is constructed using 4 layers: two inner layers of Chlorprene for unsurpassed air retention, a core layer of heavy duty nylon for strength and rigidity and an exterior of chlorosulphonated polyethylene, or CSM, for toughness and ultimate durability. When combined, these 4 layers create an inflatable boat fabric with unsurpassed durability, resulting in : UV resistance, abrasion resistance, and resistance to oil and gas – all things that boats are subject to in the marine environment. Beyond fabric, inflatable boat construction matters to the overall integrity of the craft. This is why, all Achilles boats are hand-crafted with all seams glued and sealed — overlapping a full inch and reinforced with seam tape both inside and out. No one else takes so many steps to ensure seams will last, which is why Achilles offers an industry leading full 5-year warranty on fabric and seams — instilling even greater confidence in your inflatable boat purchase.
And, don't be fooled be the cheaper, knock-off inflatables that are primarily constructed out of PVC based fabric. Yes, they are less expensive, but they are also lower quality with many different points of failure and compromised safety over time. Achilles should know, they also make and sell PVC fabric, but ONLY chose to construct their brand of boats using CSM — a better fabric that stands the test of time. This is the very reason why it was an easy decision to select Achilles as our ONLY inflatable boat brand partner — among the many choices that we had.
Come see why Tri-State Marine is excited to represent Achilles as our new inflatable brand partner. Dinghies, Sport Tenders, Rigid Hulls and Sport Utilities, we sell and service the full line of Achilles models — all powered by Yamaha Outboards. Whether you need a new inflatable by itself or a boat with a Yamaha motor, visit Tri-State Marine to consider all of your options.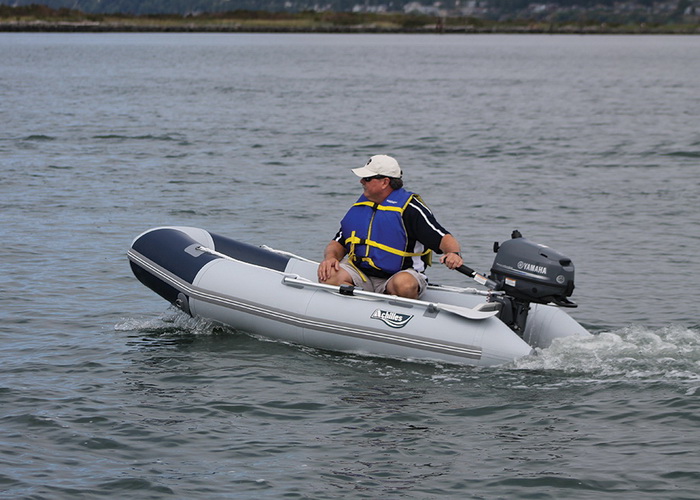 Length

8' 8"

Type

Dinghie

Capacity

4

Max HP

6

Color

Light Gray / Navy Blue
Didn't see the inflatable you wanted in stock?
We can custom order any Achilles model that you'd like! View the Achilles catalog and contact one of our Sales Advisors.
View Catalog