Filter
All Boats
Grady-White's "Chart Your Course" Sales Event is going on now! Enjoy savings up to $15,000 from Grady-White on all 2023 Models. What's more, enjoy extended Yamaha motor warranties on all Grady-White boats – during Yamaha's Power into Spring Sales Event! Now is the best time of the year to get the Grady-White model that you've always wanted — there's no reason to wait!
Grady-White is one of the most renowned saltwater boat manufacturers in the world. Whether heading to your favorite fishing spot, or relaxing with friends and family for a day on the water, nothing quite compares to a Grady-White. With the highest level of customer satisfaction, industry leading safety, quality and reliability, superior design innovation and enviable overall performance, it's no wonder why Grady-White has won the hearts of so many — including industry peers who have recognized Grady-White with countless awards. When combined with Grady-White's unparalleled SeaV²® hull, ranked #1 in performance in each of the eight J.D. Power and Associates Marine Studies ever done, you arrive at something special — found only in a Grady-White.

The truth is, Grady-White Boats' unmatched craftsmanship, exceptional attention to detail and customer satisfaction means that each time you get on your boat, you'll do so with confidence and peace of mind. In every Grady-White model, you'll better hardware, superior laminates, structural integrity and unsinkable foam flotation—a unique set of quality components you will not find in other brands. This level of craftsmanship not only ensures your overall safety, it also gives you confidence in your overall investment — recognizing that it will stand the test of time

Tri-State Marine is proud to have sold and serviced Grady-White boats with distinction since the early 1970's — while being awarded Grady-White's prestigious Admiral's Circle Award for the last 23 years. Today, we offer all 26 Grady-White models, from 18 to 45 feet — with expert guidance to advise you on the perfect match. Explore your options today — there's no better escape than spending time on a Grady-White boat.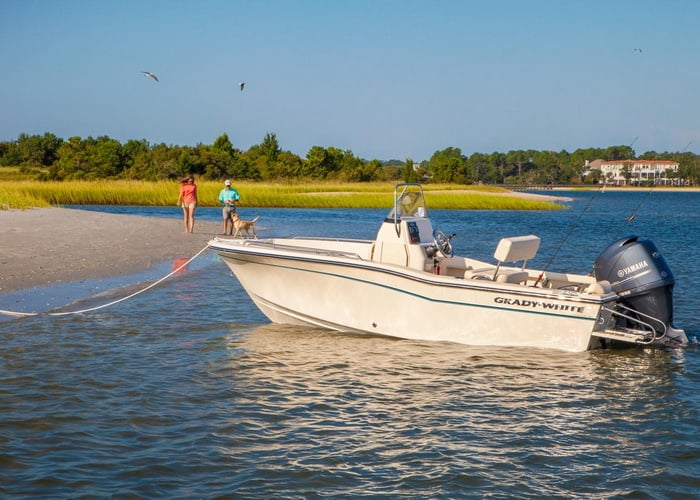 Year

2023

Length

17' 10"

Type

Center Console

Capacity

7

Engine

Yamaha F-150

Color

TBD

Price

Contact Us for Price