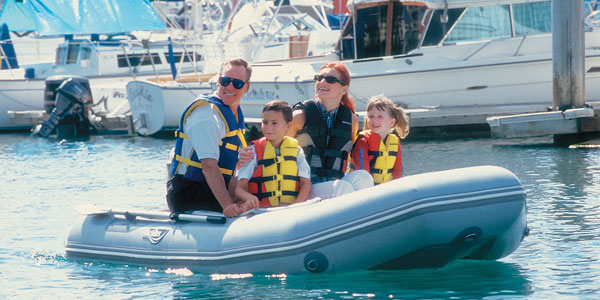 Length

9'6" - 10'8"

Type

Sport Tender

Beam

5'2" - 5'6"

Capacity

4 - 5

Weight

106 - 120 lbs

Max HP

8 - 20 hp
About the SPD-E Series
This longtime lineup staple is now better than ever.
We have never stopped making our SPD boats better which is why they have remained popular with boaters for so long. That commitment to innovation and improvement has continued with tube and floor design enhancements. New lateral seam tube construction gives these classic inflatables a more modern, stylish design. Rope life-lines have been replaced with webbed handles and helmsman grip for a cleaner appearance. The three rear floorboards that bear the brunt of abuse are now aluminum to decrease maintenance and increase durability.
The classic features that make these boats so desirable remain such as large diameter tubes for greater load capacity and better performance, a removable aluminum rowing seat and an air keel/floor joint system that deliver a more rigid floor.
Features
SPD Standard Features include:
Achilles CSM reinforced fabric
Four-layer seam construction
Aluminum and wood floorboards
Aluminum stringers and floorboard joints
Air keel
Fold-down locking oar system with two-piece breakdown aluminum oars and oar holders
Bow handle and towing D-rings
Interior bow lifting D-ring
Removable aluminum rowing seat
Extra seat attachment patches
Webbed passenger, helmsman, and rear carry handles
Extra seat attachment patches
Full length teardrop rubbing strake
Fiberglass coated v-shaped transom
Bailer valve
Foot pump
Carry bag (2 bags for the SPD-330E)
Maintenance kit
Hull Color Options
Classic Grady-White

Gelcoat

Standard Color

Celestial Blue

Gelcoat

Optional Color

Coastal Fog Blue

Gelcoat

Optional Color

Sand

Gelcoat

Optional Color

Sea Glass

Gelcoat

Optional Color

Seaport Blue

Gelcoat

Optional Color

Cape Gray

Paint

Optional Color

Harbor Blue

Paint

Optional Color
Hull Color Options
Custom White

Gelcoat

Standard Color

Gunmetal Gray

Gelcoat

Optional Color

Sandy Tan

Gelcoat

Optional Color

Horizon Blue

Gelcoat

Optional Color

Ice Blue

Gelcoat

Optional Color

Abaco Green

Gelcoat

Optional Color
Models
| | | | | | | | | | | | | |
| --- | --- | --- | --- | --- | --- | --- | --- | --- | --- | --- | --- | --- |
| | Length | Inside Length | Beam | Inside Beam | Tube Dia. | Weight | Load Capacity | Person Capacity | Recommend HP | Max HP | Air Chambers | Color |
| SPD-290E | 9'6" | 6'9" | 5'2" | 2'4" | 17" | 106 lbs | 1,100 lbs | 4 | 6 | 8 | 2 & Keel | Lt. Gray |
| SPD-310E | 10'2" | 7'3" | 5'2" | 2'4" | 17" | 110 lbs | 1,190 lbs | 4 | 8 | 10 | 3 & Keel | Lt. Gray |
| SPD-330E | 10'8" | 7'5" | 5'6" | 2'7" | 18" | 120 lbs | 1,300 lbs | 5 | 15 | 20 | 3 & Keel | Lt.Gray |
| | | | | | | | | | | | | |
| --- | --- | --- | --- | --- | --- | --- | --- | --- | --- | --- | --- | --- |
| | Length | Inside Length | Beam | Inside Beam | Tube Dia. | Weight | Load Capacity | Person Capacity | Recommend HP | Max HP | Air Chambers | Color |
| SPD-290E | 9'6" | 6'9" | 5'2" | 2'4" | 17" | 106 lbs | 1,100 lbs | 4 | 6 | 8 | 2 & Keel | Lt. Gray |
| SPD-310E | 10'2" | 7'3" | 5'2" | 2'4" | 17" | 110 lbs | 1,190 lbs | 4 | 8 | 10 | 3 & Keel | Lt. Gray |
| SPD-330E | 10'8" | 7'5" | 5'6" | 2'7" | 18" | 120 lbs | 1,300 lbs | 5 | 15 | 20 | 3 & Keel | Lt.Gray |