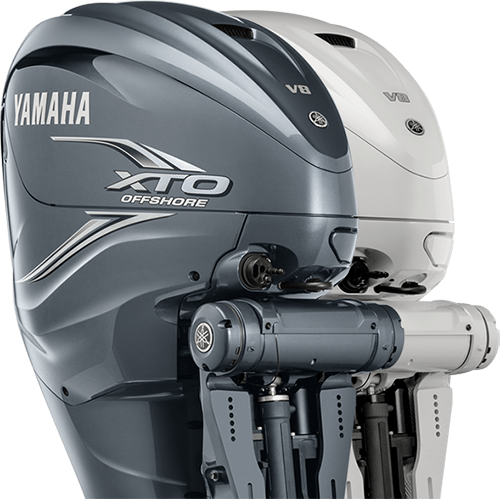 XTO Offshore 5.6L V8 425hp Specs
Engine Type: V8 / DOHC / 32 valves / 4 Valves per Cylinder
Displacement: 5.6L
Bore x Stroke: 96 x 96 mm (3.78 x 3.78 in)
Prop Shaft Horsepower: 425hp at 5500 RPM
Full Throttle RPM Range: 5000 - 6000 RPM
Alternator Output at W.O.T.: 90 Amp Gross, Max
Compression Ratio: 12.2:1
Fuel Induction System: Direct Injection / Up to 2900 PSI
Weight*: 432 kg (952 lbs) / 443 kg (977 lbs) / 453 kg (999 lbs)
Recommended Fuel: Octane 89
Recommended Engine Oil: Yamalube® 4M (See owner's manual)
Recommended Fuel Filtration: Yamaha 10-Micron Fuel / Water Separating Filter (external)
Warranty: Limited 3-year Pleasure, 3-year Government, 1-Year Commercial
About the XTO Offshore 5.6L V8 425hp
The XTO Offshore® is the result of years of collaboration with top boat designers, and has been built from the ground up to provide the ultimate in power and efficiency offshore. With impressive stats such as the highest compression ratio on the water, industry firsts such as an electric steering system, and engineering touches such as iridium spark plugs and quad thermostats, it's purpose-built for extreme power, durability, control and reliability.
Available in signature Yamaha gray or new pearlescent white
425 hp on less-expensive 89-octane gasoline
Available with Helm Master® with SetPoint™
Impressive 5-year Limited Warranty, for pleasure use
Shaft length:

25" - 30" - 35"
* Weight refers to shortest shaft length, and is measured without motor oil, gearcase oil and propeller (except models 25 hp and under, which include a standard propeller).