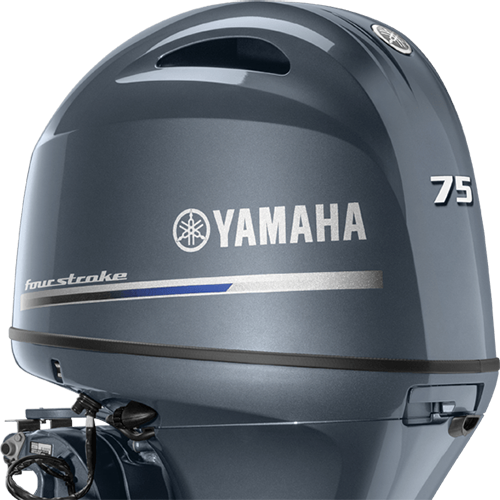 Midrange i4 75hp Specs
Engine Type: In-Line 4
Displacement: 1.8L
Bore x Stroke: 81 x 88.9mm |3.19 x 3.5in
Prop Shaft Horsepower: 75hp at 5500 RPM
Full Throttle RPM Range: 5000 - 6000 RPM
Alternator Output at W.O.T.: 35 Amp
Compression Ratio: 10.0:1
Fuel Induction System: EFI
Weight*: 160kg (353 lbs)
Recommended Fuel: Octane 87
Recommended Engine Oil: Yamalube® 4M (See owner's manual)
Recommended Fuel Filtration: Yamaha 10-Micron Fuel / Water Separating Filter (external)
Warranty: Limited 3-year Pleasure, 3-year Government, 1-Year Commercial
About the Midrange i4 75hp
The all-new 1.8-liter I-4 F75 features a step up in displacement from its previous design. Still, its single-overhead-camshaft with four valves per cylinder keeps it compact and shaves off 13 pounds. Bigger power plus lighter weight equals one thrilling new outboard.
Available for mechanical remote or tiller control
Only 353 pounds
20" shaft
Powerful 35-amp alternator
Optional Variable Trolling RPM via the Command Link® tachometer
* Weight refers to shortest shaft length, and is measured without motor oil, gearcase oil and propeller (except models 25 hp and under, which include a standard propeller).