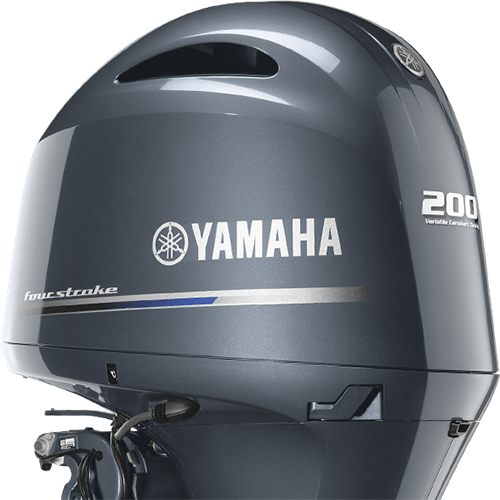 Type

In-Line 4

Disp.

2.8L

Weight*

487 lbs (20" Shaft)

Power

200hp
In-Line 4 200hp Specs
Engine Type: In-Line 4
Displacement: 2.8L
Bore x Stroke: 96 x 96mm (3.78 x 3.78 in)
Prop Shaft Horsepower: 200hp at 5500 RPM
Full Throttle RPM Range: 5000 - 6000 RPM
Alternator Output at W.O.T.: 50 Amp
Compression Ratio: 10.3:1
Fuel Induction System: EFI
Weight*: 220 kg (487 lbs) - 221 kg (489 lb)
Recommended Fuel: Octane 89
Recommended Engine Oil: Yamalube® 4M (See owner's manual)
Recommended Fuel Filtration: Yamaha 10-Micron Fuel / Water Separating Filter (external)
Warranty: Limited 3-year Pleasure, 3-year Government, 1-Year Commercial
About the In-Line 4 200hp
The lightest DOHC outboard in its class, this I-4 is the perfect, lightweight 200-hp solution for small- to medium-size boats. Plus, it's the first in-line four compatible with Helm Master®, our fully integrated digital boat control system.
Compatible with mechanical controls or digital Command Link Plus® or Helm Master® controls
Runs on economical 89 octane
Only 487 pounds (20" shaft model)
20" or 25" shaft options (LH rotation available in 25" shaft digital control)
50-amp alternator provides 13 percent more power than V6 3.3-liter F200
* Weight refers to shortest shaft length, and is measured without motor oil, gearcase oil and propeller (except models 25 hp and under, which include a standard propeller).