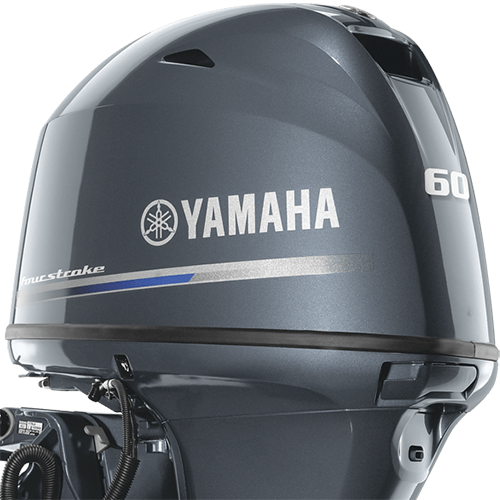 Midrange i4 60hp Specs
Engine Type: i4
Displacement: 1.0L
Bore x Stroke: 65 x 75mm (2.56 x 2.95 in.)
Prop Shaft Horsepower: 60hp at 5500 RPM
Full Throttle RPM Range: 5000 - 6000 RPM
Alternator Output at W.O.T.: 16 Amp
Compression Ratio: 9.5:1
Fuel Induction System: EFI
Weight*: 112 kg (247 lbs)
Recommended Fuel: Octane 87
Recommended Engine Oil: Yamalube® 4M (See owner's manual)
Recommended Fuel Filtration: Yamaha 10-Micron Fuel / Water Separating Filter (external)
Warranty: Limited 3-year Pleasure, 3-year Government, 1-Year Commercial
About the Midrange i4 60hp
Our 1-liter 60-hp midrange offers light weight and exhilarating performance. A dynamite choice for the inshore angler, it gives you the option of dialing in trolling speeds in precise, 50-RPM increments. Depending on your gauge and control preference, the F60 allows you to access to our Variable Trolling RPM Switch (VTS®) via our Multi-Function Tiller Handle, Command Link® Tachometer or our new, helm-mounted remote VTS switch.
Available for mechanical remote or tiller control
Only 247 pounds
Available in a 20" shaft
Powerful 16-amp alternator
Optional Variable Trolling RPM Switch (VTS®)
Available in a T60 High-Thrust model for heavy loads and an F60 Jet-Pump model for shallow water (F60 Jet model produces 40 horsepower at the jet pump nozzle)
* Weight refers to shortest shaft length, and is measured without motor oil, gearcase oil and propeller (except models 25 hp and under, which include a standard propeller).