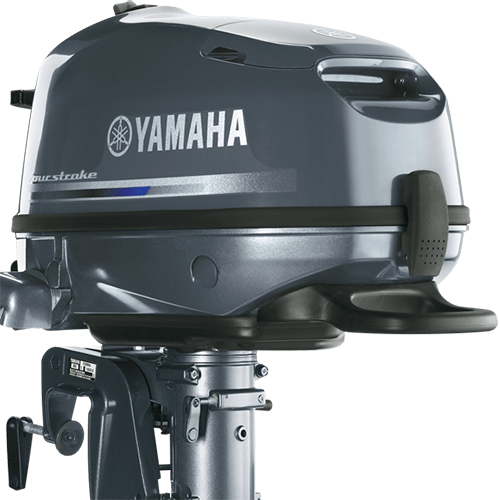 Type

1 cyl.

Disp.

139cc

Weight*

59 lbs (15" Shaft)

Power

6hp
Portable 6hp Specs
Engine Type: 1 cyl.
Displacement: 139cc
Bore x Stroke: 62 x 46mm (2.44 x 1.81in)
Prop Shaft Horsepower: 6hp at 5000 RPM
Full Throttle RPM Range: 4500 - 5500 RPM
Alternator Output at W.O.T.: 6 Amp
Compression Ratio: 8.9:1
Fuel Induction System: Carb
Weight*: 27 kg (59 lbs) - 28 kg (61 lbs)
Recommended Fuel: Octane 87
Recommended Engine Oil: Yamalube® 4M (See owner's manual)
Recommended Fuel Filtration: N/A
Warranty: Limited 3-year Pleasure, 3-year Government, 1-Year Commercial
About the Portable 6hp
Our 139-cc 6-hp portable is an impressive little outboard. It boasts surprising features for such a small motor, like labyrinth exhaust and a long span mounting system for smooth, quiet power. It also offers the convenience an external fuel tank (in addition to its built-in tank) for extended range and added convenience.
Tiller-handle control with forward-neutral-reverse shifting and an ergonomic twist-grip throttle
Only 59 pounds (15" shaft model)
Available in 15" and 20" shaft lengths
Solid 6-amp alternator (optional)
* Weight refers to shortest shaft length, and is measured without motor oil, gearcase oil and propeller (except models 25 hp and under, which include a standard propeller).