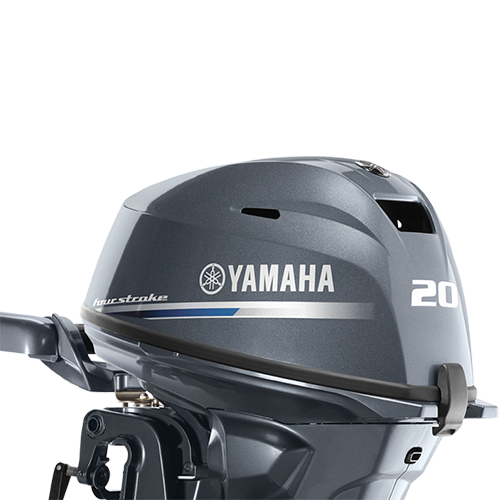 Type

2 cyl.

Disp.

432cc

Weight*

126 lbs (15" Shaft)

Power

20hp
Portable 20hp Specs
Engine Type: 2 cyl.
Displacement: 432cc
Bore x Stroke: 65 x 65.1mm / (2.56 x 2.56 in)
Prop Shaft Horsepower: 20hp at 5500 RPM
Full Throttle RPM Range: 5000 - 6000 RPM
Alternator Output at W.O.T.: 16 Amp
Compression Ratio: 9.3:1
Fuel Induction System: EFI
Weight*: 57kg (126 lbs) - 65kg (143 lbs)
Recommended Fuel: Octane 87
Recommended Engine Oil: Yamalube® 4M (See owner's manual)
Recommended Fuel Filtration: Yamaha 10-Micron Fuel / Water Separating Filter (external)
Warranty: Limited 3-year Pleasure, 3-year Government, 1-Year Commercial
About the Portable 20hp
Our 432-cc all-new 20-hp portable outboard-built on the same award winning platform as the F25 and sharing its SOHC in-line design and streamlined intake manifold, delivers solid power. Not only that, but it's one of the most fuel efficient in its class. At just 126 pounds, it's suitable for lightweight craft such as aluminum fishing boats, tenders and inflatables.
Available for remote mechanical or tiller-handle control
Only 126 pounds (15" shaft model)
Available in 15" and 20" shaft lengths
Powerful 16-amp alternator
* Weight refers to shortest shaft length, and is measured without motor oil, gearcase oil and propeller (except models 25 hp and under, which include a standard propeller).