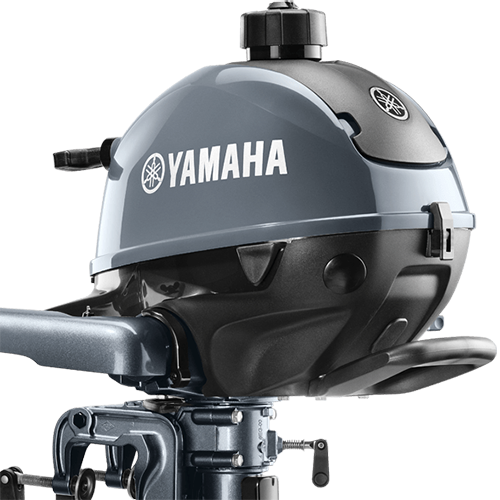 Type

1 cyl.

Disp.

72cc

Weight*

37 lbs (15" Shaft)

Power

2.5hp
Portable 2.5hp Specs
Engine Type: 1 cyl.
Displacement: 72cc
Bore x Stroke: 54 x 31.5 mm (2.13 x 1.24 in)
Prop Shaft Horsepower: 2.5hp at 5500 RPM
Full Throttle RPM Range: 5250 - 5750 RPM
Alternator Output at W.O.T.: N/A
Compression Ratio: 8.8:1
Fuel Induction System: Carb
Weight*: 17 kg (37 lbs) - 20 kg (40lbs)
Recommended Fuel: Octane 87
Recommended Engine Oil: Yamalube® 4M (See owner's manual)
Recommended Fuel Filtration: N/A
Warranty: Limited 3-year Pleasure, 3-year Government, 1-Year Commercial
About the Portable 2.5hp
Our 72-cc 2.5-hp portable outboard is the smallest motor on our roster, yet, it has some of the biggest news. Completely redesigned, it's even more portable, easier to store and cleaner burning. It recently achieved a Three-Star rating from the California Air Resources Board (C.A.R.B) for Ultra-Low Emissions and now meets emissions requirements in all 50 states.
Available for tiller-handle control with forward-neutral shifting, 360-degree steering and an ergonomic twist-grip throttle
Only 37 pounds (15" shaft model)
Available in 15" and 20" shaft lengths
* Weight refers to shortest shaft length, and is measured without motor oil, gearcase oil and propeller (except models 25 hp and under, which include a standard propeller).