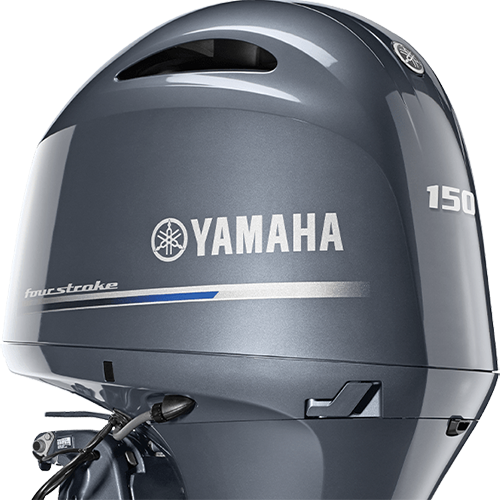 Type

In-Line 4

Disp.

2.7L (Mechanical) / 2.8L (DEC)

Weight*

478 lbs (20" Shaft)

Power

150hp
In-Line 4 150hp Specs
Engine Type: In-Line 4
Displacement: 2.7L (Mechanical) / 2.8L (DEC)
Bore x Stroke: 94 x 96.2 (3.70 x 3.79in) - 96 x 96.2mm (3.78 x 3.79in)
Prop Shaft Horsepower: 150hp at 5500 RPM
Full Throttle RPM Range: 5000 - 6000 RPM
Alternator Output at W.O.T.: 35 - 50 Amp
Compression Ratio: 10.3:1
Fuel Induction System: EFI
Weight*: 20" shaft / 217kg (478 lbs), 25" shaft / 221kg (487 lbs)
Recommended Fuel: Octane 87 & Octane 89
Recommended Engine Oil: Yamalube® 4M (See owner's manual)
Recommended Fuel Filtration: Yamaha 10-Micron Fuel / Water Separating Filter (external)
Warranty: Limited 3-year Pleasure, 3-year Government, 1-Year Commercial
About the In-Line 4 150hp
The F150 is one that started it all and it's more popular than ever. Powerful, light and compact, it's now mechanical or digital compatible, making it available to more boaters than ever before.
Compatible with mechanical controls or digital Command Link Plus® or Helm Master® controls
Only 478 pounds (20" shaft model)
Available in 20" or 25" shafts
Powerful 50-amp alternator (2.8-liter digital) or 35-amp alternator (2.7-liter mechanical)
* Weight refers to shortest shaft length, and is measured without motor oil, gearcase oil and propeller (except models 25 hp and under, which include a standard propeller).