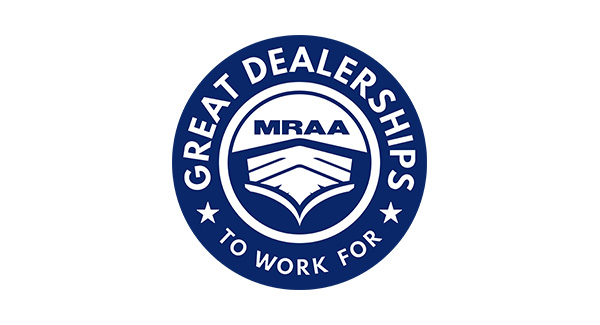 Tri-State Marine Named 2022 Great Dealership to Work For by MRAA
News
Tri-State Marine is honored again to have been named a 2022 Top 10 Boat Dealerships to Work For by MRAA.
Tri-State Marine Named a
2022 Great Dealerships to Work For
The Marine Retailers Association of the Americas has named Tri-State Marine in Deale, Maryland, among this year's marine industry Great Dealerships to Work For. The dealership was honored on December 7, 2022, at Dealer Week, the association's annual conference and expo, in Austin, Texas.
Tri-State Marine was part of a record 27 dealership locations across North America that qualified for recognition by earning an overall score of 90 percent or better on the Marine Industry Certified Dealership Program's annual Employee Satisfaction Survey. Administered anonymously through the MRAA, the survey asks employees of Marine Industry Certified Dealerships to answer 32 ranking questions about overall satisfaction regarding their unique dealership's customer relations, employee satisfaction, leadership, management and reputation.
After their employees complete the survey, and the dealership receives its 13-page survey report, the whole team meets and discusses what the dealership is doing great and what they could be doing better for their employee culture.
"Tri-State Marine's employees bragged about how their group supports the customer, and they each said they'd recommend the dealership to friends or family shopping for a boat," said Liz Keener, MRAA's Certification Manager. "The team also shared that there is a strong bond among the staff, and they enjoy working together."
"It's always nice when employees are happy – it results in a terrific work environment, which translates into how we grow our customer relationships, one interaction at a time. I am a strong believer that the ONLY long-term, sustainable competitive advantage that a company has is its culture – which comes down to its people and their happiness. We're thrilled to have been able to accomplish this for yet another year." - Tri-State Marine Owner, Keith Rhodes
About the Marine Retailers Association of the Americas
At the Marine Retailers Association of the Americas, we believe that for the marine industry to thrive, the retail organizations that interact with the boaters in their community must thrive. With that in mind, MRAA works to create a strong
and healthy boating industry by uniting those retailers, providing them with opportunities for improvement and growth, and representing them with a powerful voice. For more information, visit MRAA.com or contact us at 763-315-8043.

Read write up in PropTalk Magazine February 2023 issue.