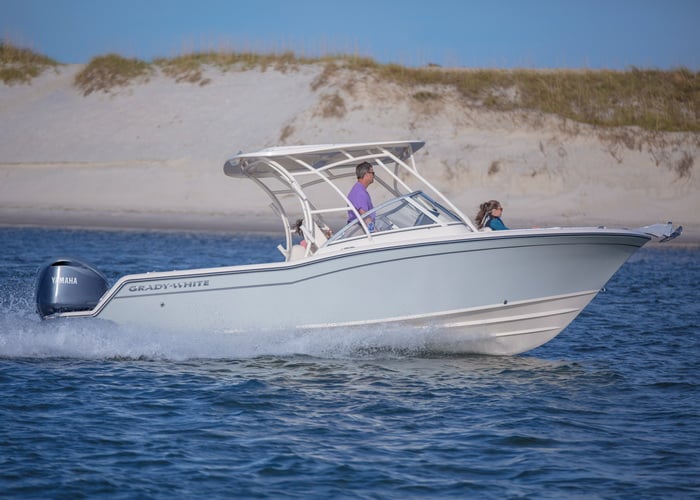 Tri-State Marine – Annapolis Waterfront
News
Announcing our newest addition to Tri-State Marine — a new location on the Annapolis Waterfront! While we have long enjoyed a premiere location in Deale, MD on 10 acres with the largest indoor boat showroom in the U.S., we are incredibly excited to better serve our customers from an additional Tri-State Marine location at Bert Jabin's Yacht Yard.
Easily accessible by land or water on Back Creek in Annapolis, here you'll find a selection of Grady-White, Parker and Sea Pro boats. You'll also find our best-in-class service — particularly our Yamaha Outboard service, where we are 5-Star Gold Certified and a Pro Elite Dealer, placing us in the top 3% of all dealers nationally and the ONLY dealer in the Annapolis / Chesapeake Bay area that has achieved this prestigious dealer rating.
"We're incredibly excited about the addition of an Annapolis location, given so many of our customers live in Annapolis, Severna Park and Kent Island," said Keith Rhodes, Owner, Tri-State Marine. "To be able to service them locally while providing greater accessibility to acquire new customers is a natural progression, building on what Tri-State Marine has accomplished over the past 50 years. Bert Jabin's on the Annapolis Waterfront is really a perfect fit for us — an incredible location in a prestigious and very well-regarded yacht yard — we couldn't be any happier with our decision."
Currently, we have a Sales Advisor on-site Thursday through Saturday from 9a to 6p each day. To reach our Sales Advisor at this location now, please call 410-562-6247. To schedule service, please call 410-867-1960.
Coming this October, once our new Sales Office and Service areas are completed, this location will be staffed full-time along with our best-in-class line of boats and marine service.
For more than 50 years, Tri-State Marine has been the hallmark of leading boat dealers in the area — proudly serving the Washington, D.C., Virginia and Maryland communities, while offering expert boat, motor and electronics sales and marine services for only the industry's best brands, including Grady-White, Parker Offshore, Sea Pro, Achilles Inflatables, Yamaha Outboards, Garmin Marine Electronics, Fusion Marine Audio and EZ Loader Trailers.
We are always available to you, please tell us how we can make boat ownership easier and more enjoyable. Explore, dream, discover – happy boating.