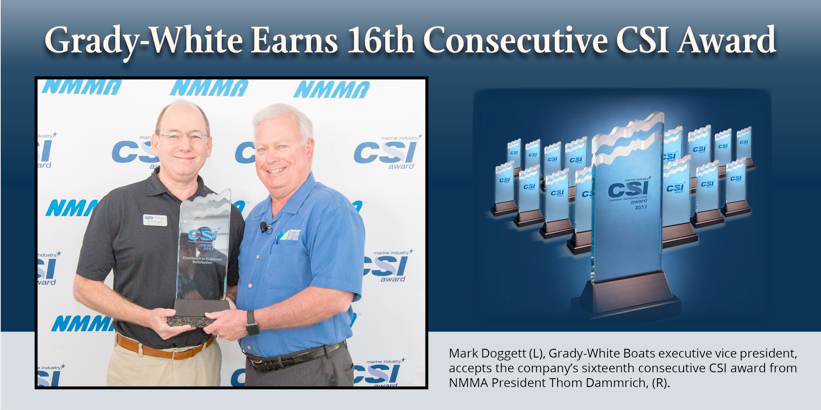 Grady-White Earns 16th Consecutive CSI Award
News
Together, Delivering the Ultimate Boating Experience!
Congratulations AGAIN to the Grady-White Dealer Network and the Grady-White Factory Team on earning our 16th consecutive NMMA CSI Award! Another recognition for providing an outstanding product and the ultimate boating experience to our customers! Thank you to each and every one of your dealer teams for all that you do to provide the front line sales and service that is such an important part of delighting our customers, year after year!
The details: The NMMA has once again awarded Grady-White Boats the marine industry CSI award, the top recognition for customer satisfaction with new boats. Grady-White has received this top award in the category of fiberglass outboard boats all 16 years that it has been awarded. Award recipients were acknowledged during the annual marine industry breakfast at the Miami International Boat Show, February 16, 2018.
Mark Doggett executive vice president of Grady-White Boats, remarked, "Grady-White Boats and Grady-White dealers believe this award is an acknowledgement of our combined commitment to achieving the very highest levels of customer satisfaction..."
We thank all of you for making this possible! It's this powerful partnership that makes our goal of unmatched customer satisfaction a reality. It is our combined efforts that continue to ensure we have so many customers that are thrilled to be part of the Grady Life!