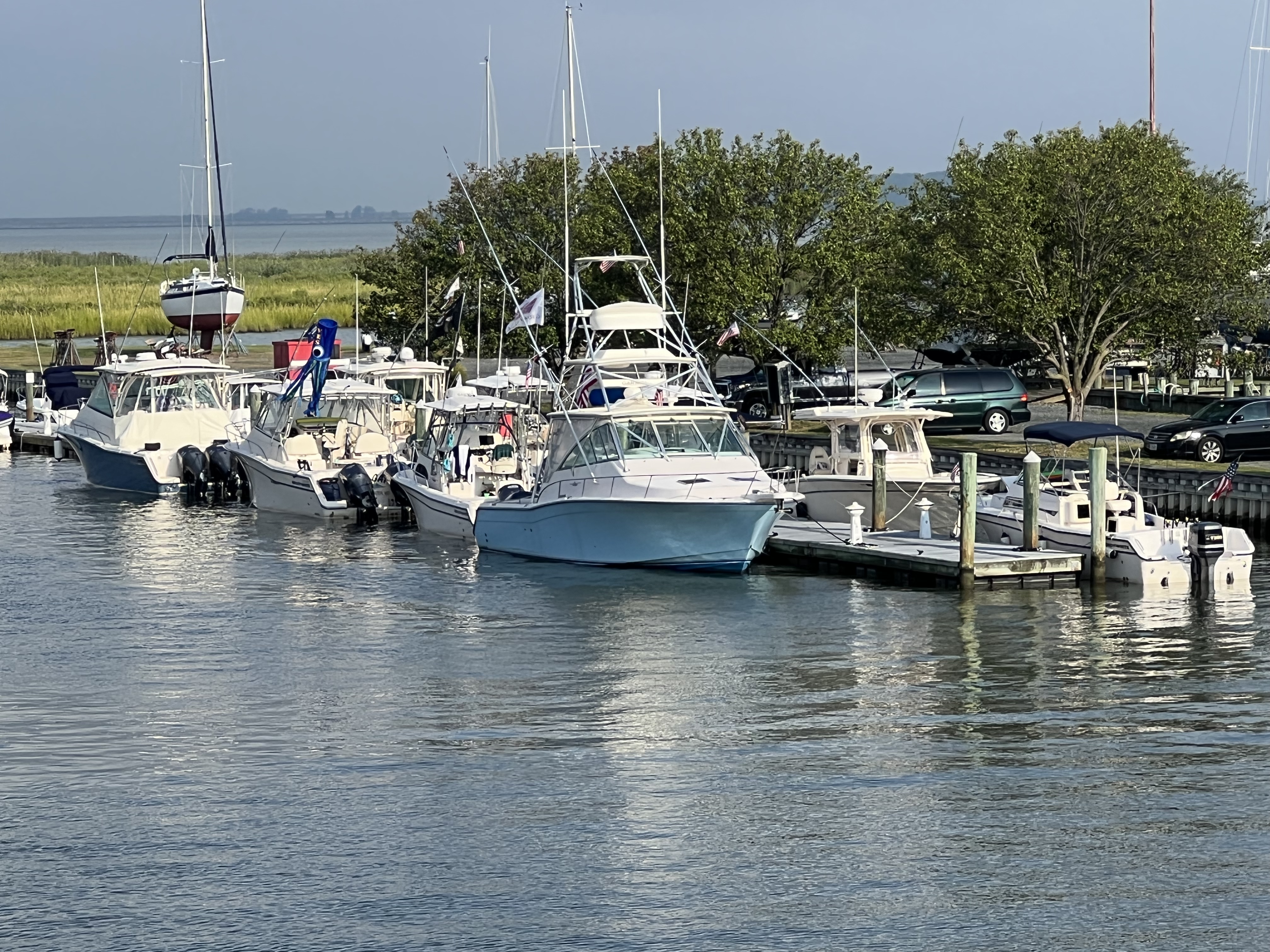 2022 Chesapeake Bay Grady-White Club Palooza
News
Our Chesapeake Bay Grady-White Club provided us a great summary of their most recent, Annual Grady-White Palooza. If you are interested in becoming a member of the Chesapeake Bay Grady-White Club or getting more information please contact us for more details!
"The 2022 Grady Palooza was a low-key affair which ended up spanning five days (August 25th-28th, plus Monday the 29th) at Knapps Narrows Inn and Marina on Tilghman Island. The first boats arrived late Thursday morning and continued arriving through Saturday afternoon. Ten boat memberships represented by 21 members of the Chesapeake Bay Grady White Club were in attendance. Because everyone loves a good time, five couples from the Tidewater Grady White Club joined us for the weekend, with four couples arriving on their respective boats. (Special recognition to the Careys, who made the trip from Virginia Beach by car but get kudos for being members of both Clubs.) For those of you keeping score at home, 31 people and 12 boats celebrated Grady White and the boating lifestyle at this year's Palooza.
To prepare for long lazy refreshing afternoons at the pool, morning hours were spent in and around the Inn's breakfast room, sitting on the Narrows watching the boat traffic, or exploring the surrounding area on foot, by bike, or by car. Thursday evening found members participating in an ad hoc dock party, due in large part to the Hampshires' hospitality aboard the Tail Gator. This served as a rehearsal for the actual Dock Party ("Docktails") Friday evening. Participants traveled up and down the floating dock, enjoying good food, good libations, and great company. Varied delicious food was shared, as were tales of past exploits and hopes for future adventures. This was also a good time to see how other members customized their vessels, both for festivities and sea-going.
Saturday evening the festivities were centered around the pool area. Dinner was a seafood buffet provided by the Club. It was catered by Chesapeake Landing, highlighting seafood Alfredo accompanied by crab balls and crab dip. To accompany this fine feast, Dawn Williams serenaded us with her fun light-hearted vocal selections. Each year, she continues to brave the mosquitoes and lack of performer accommodations to entertain us during dinner, and she eventually coerces some of the audience to display their dance moves. The Dance Delegation this year was led by the ladies of the Tidewater Club, who initiated use of the dance floor (pool deck).
Sunday morning found most preparing to leave Tilghman Island. A few boats planned to "take the long way home," hoping to fish and otherwise enjoy their time on the water prior to their weekend ending. The Tidewater boats travelled to Cambridge to enjoy a waterfront lunch before heading down the Bay back to the Tidewater region. One of our CBGWC couples knew they would have a fantastic time prior to arriving for the weekend and booked their stay through Monday. This inspired another of our members to make a game-day decision to extend his stay through Monday.
To the casual observer, the festivities for the weekend were not particularly wild or crazy. (No one was arrested.) There were reports of clothing items being lost at the pool party, but everyone has now been reunited with their respective wardrobe items. However, we apparently had a good enough time that we did not remember to take a group photo." -Anne Slabinski