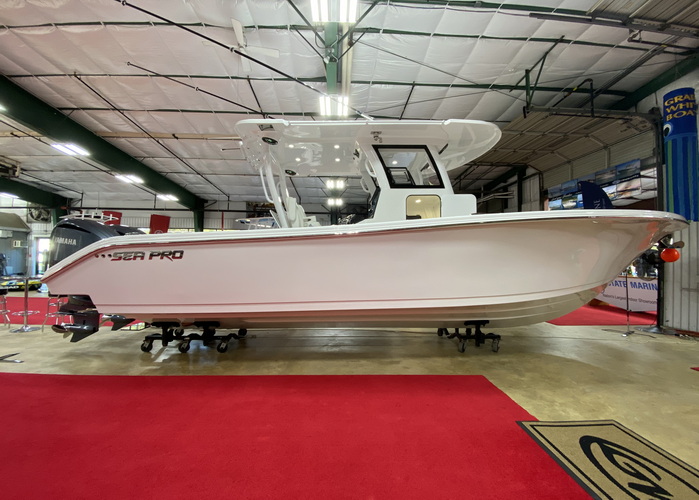 Length

31' 10"

Type

Center Console

Beam

10' 4"

Deadrise

24.5˚

Weight

8500 lbs

Engine

Twin Yamaha F-300

Power

600 HP

Color

Standard White

Price

Contact Us for Price
About the 2022 Sea Pro 320 DLX CC
This 2022 Sea Pro 320 DLX CC has all the Sea Pro standard features with added options of Gull Wings, Forward Backrest, Side Entry Door and a Phone Holder.
The all new Sea Pro 320, the brands flagship model, is featured in Chesapeake Bay Magazine's Special Holiday Issue, by the renowned John Page Williams. We were honored to have our very own Sea Pro 320 be the test boat and have our very own, Jimmy Reinoehl, Rigging Technician as the Captain for John Page Williams' boat review.
"Handling was crisp, easy and dry with a soft ride from the deep-V hull. It was easy to forget that the boat is 32' long, though her length and weight clearly contributed to the ride quality." States John in his article.
Take a Walk-Through Tour of the 2022 Sea Pro 320 DLX CC